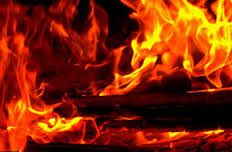 This week masked gunmen entered the offices of a French magazine and brutality executed 12 persons.  As they were murdering these people they shouted, "Allahu akbar" ("God is Greatest").  As Christians we are taught that once we except Christ as our Lord and Savior that our sins – past present and future – are forgiven.  Yes all of our sins are forgiven.  Even if we commit murder, if in our heart we are remorseful and repent from our sinful ways we can be forgiven.   Some of the greatest biblical figures, like Moses, David and Samson are examples of God's great mercy to those that have sinned greatly, yet have been forgiven and then used by God to do His work once they have repented.  However there is one sin that God has told us cannot be forgiven.  It is stated in the New Testament directly by Jesus:
"I promise you that any of the sinful things you say or do can be forgiven, no matter how terrible those things are. But if you speak against the Holy Spirit, you can never be forgiven. That sin will be held against you forever." — Mark 3:28-29
It is also present in the Old Testament in Genesis as the Third of the Ten Commandments:
"Do not take the name of the Lord, thy God in vain.  For the Lord will not hold guiltless whoever takes His name in vain."
Somehow as this brutal act was being committed in France, I was watching a series of 5-minute videos by Dennis Prager at the recommendation of my Bible Study teacher about exactly this message.  Prager has a brilliant series of short talks on each of the commandments which should not be missed, as they clearly present each commandment, its true liturgical meaning and how it impacts our lives and relationships with each other and God.
So here is the point.  This is where radical Islamists expose themselves as the godless, murdering hate-mongers they are.  If they really knew the one True God, the God of their Islamic father Abraham, they could never commit such atrocities in God's name, for those who do are condemned to eternal damnation.  No forgiveness, no grace, and no mercy.  You need to click on the link and see this video and read the short summary that follows.  These people are the true disciples of satan and will ultimately dwell with it in the great lake of fire.  Click here for the video.
The Worst Sin You Can Commit – form Dennis Prager series on the Ten Commandments
Not all sins are equal. Some are worse than others. The worst of one of all? Committing evil in the name of God. This commandment is often misunderstood because it's mistranslated. It's not concerned with saying God's name "in vain" like "God, did I have a terrible day at the office." It's about using God's name in the commission of evil. We see this today when Islamists invoke God's name while they murder innocent people.