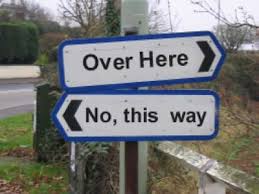 To walk out of God's will is to step into nowhere. – CS Lewis
We are taught from an early age the importance of free will and our 'right to choose'.  But, once you have accepted Christ into your heart things start changing, and for the better.  There soon comes a time when you no longer are burdened with 'choosing'.  Rather, it is as if these choices begin to be made for you – made with apparently little of your effort yet still in harmony with your intent.   Decisions that you once battled over before giving yourself over to Christ become fewer and less stressful.  Let me explain.
When we are confronted with most moral decisions, we normally know what the right thing to do would be.  However, what makes the decision difficult is some potential inconvenience or insecurity that prevents us from doing it.  Now, once Christ comes into your heart, you get to that point where you just 'know too much' to allow inconvenience or insecurity to serve as a reason for not doing the right thing.  These are never again valid justifications once you begin to see the depth of the love, the depth of the sacrifice that was made for you, and the size of the unmerited gift presented to us by our Heavenly Father.  You may even become embarrassed by your prior attempts at wiggling out of some opportunity to step up and answer God's calling.
Recently, I caught myself saying, "I have no choice, I need to do this.", whereas in the past I had convinced myself otherwise.  I no longer felt that there was a choice to be made – sort of like breathing or blinking.  This is the point where God's will becomes your will.  And when you put some thought into it, isn't that the ultimate expression of free will: to submit your own self-centered will to that of God's?  God allowing us to try and try again, thinking that we know best and then one glorious day the light bulb goes off and you find yourself singing:
'…Take my heart and form it.  Take my mind transform it.  Take my will conform it…to Yours, to Yours, oh Lord…'
So, what is God's will for us – is it happiness, success, peace, comfort, good health, marriage, children?  Well that would be nice, but if you check scripture you get to what God really wants from us and for us.  Here it is simply stated in Micah 6:8
He has shown you, O mortal, what is good.
    And what does the Lord require of you?
To act justly and to love mercy
    and to walk humbly with your God.
Do that and you'll find yourself 'making' decisions less and less each day.