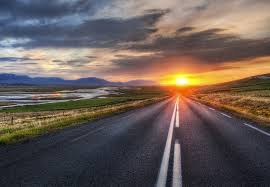 It had been a while since Ellie and I took a road trip on our own. Road trips are fun. Last week we got in the car and headed to Taos, NM for a dear friend's wedding. Road trips allow you to do things that you don't necessarily get to do when you are driving to work or the store, or someplace where you have to go. (Road trips take you places where you want to go.) Anyway, once we lost good radio reception (I know, we are showing our age here.) I got to do something I don't normally do – listen to a whole CD in the car. The one Ellie picked from the skimpy collection was 'The Cars' first album. It's a great album – probably one of the top 10 debut albums of all time.
The second half of the album climaxes with the song, All Mixed Up <Click to here>. I have heard the chorus a hundred times or more, 'She said to leave it me, everything will be alright.' It goes on to fade out and then it came to me, that is what God is telling me…and you. "Leave it to Me. Everything will be alright. Trust me." Well, that's a problem for me – a man, Italian heritage, architect, project manager, father, solver of problems. It is extremely difficult to leave it to anyone but me – that is what I know best. What I don't know best is how to get where God wants me to be – here He knows best. I need to come to terms with that and just let go, and let God do the driving. Then I remembered that old Greyhound tag line, "…and leave the driving to us!" I need to sit back, relax and let the Lord take me where He will. He's in the driver's seat. Now, the trip may have some detours, traffic, maybe even a breakdown or two…but He knows where we are headed, and we just need to trust the driver.
Back in our car, Ellie driving, me in the passenger seat listening to this album again, drifting off – peacefully along for the ride…Road trips also give you time to think…God at the wheel, driving along, headed for Paradise, taking all who would like along for the ride.
.