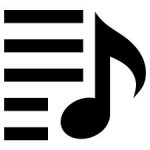 When my brother passed away a few years back, we played some Steely Dan music at his wake.  He was a big fan and I think it helped the friends and family that knew this about him.  It got me to thinking at the time about what kind of music I would I would want to be associated with when that day comes.  You live long enough you'll hear all sorts of music that sticks with you.  As a child of the 70's the real classics like Led Zeppelin, Pink Floyd and The Doors are some of my favorites.  And although I would never admit it at the time, Disco, Michael Jackson and E,W, & F make me wish I would have spent more time figuring out how to dance.  In retrospect I find many types of music very enjoyable, from Pearl Jam to Reggae, each represent a different part of my life, and all bring me back to a particular place or time.  I know that most people  feel the same way.  Music is something fundamental to our psyche.  It can reflect or establish our state of mind.  Few people discover heavy metal when they are 50, and there aren't too many teens out there into jazz…But, as usual I digress.
 So I started my memorial playlist with some classics:  Spirit in the Sky by Norman Greenbaum, Woodstock by Joni Mitchell, Jesus is just Alright by the Doobies, Blue Sky by the Allman Brothers (in honor of my wife), Within You, Without You by the Beatles…then about a year ago I took the K-Love challenge.  K-Love** is a listener supported radio station that plays contemporary Christian music and promotes listening to the station for 30 days and promises to change your life.  Well, it did.  And although I knew the genre existed, I had no idea how good or how popular it was.  As I said, maybe it has come at a time where I am more susceptible (open) to the message.  All songs begin as poetry, and we know that most hymns begin as psalms.  But the best spiritual songs I have found begin as prayers.  There are a few I have added to my playlist now that move me as much as Whippin' Post did when the Allman Brothers played it at The Alladin on that night in 1980 when I met my wife:  Word of God Speak by Mercy Me, Alive by Natalie Grant, God's Great Dance Floor by Passion, and this one: Oceans by Hillsong United.  This video and song is amazing and is as good a prayer as you will read from scripture or hear from the pulpit.  Once the audience takes over you will get what I mean.
Spirit lead me where my trust is without borders
Let me walk upon the waters
Wherever You would call me
Take me deeper than my feet could ever wander
And my faith will be made stronger
In the presence of my Savior
I will call upon Your Name
Keep my eyes above the waves
My soul will rest in Your embrace
I am Yours and You are mine
If you would like to sample the rest of my playlist just in case you're not able to make the service, click here… 🙂   (You'll have to deal with the commercials.)
Thank you Sharon.
**Last year about 9,000 listeners came to Christ as a result of taking the K-Love 30 day challenge.