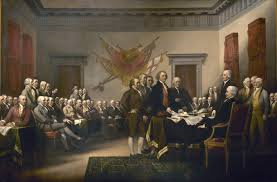 Two hundred and forty-one years ago today a small, but committed group of our fore-fathers (and fore-mothers) got together and determined that they were not going to take it anymore.  They had reached a point where they were willing to risk their 'Lives, Fortunes and sacred Honor' in order to form a more perfect union right here in these United States.  They did so against extreme odds and against, at that time, the greatest power on earth.  They did so understanding the likely consequences of persecution, suffering and death.  But they did it anyway.  They had determined that the alternative was no longer acceptable; that a life without freedom was indeed not a life intended by our Creator, and most importantly, that they were on the side of God. (Take a minute to read the text of the Declaration of Independence today and you will see how God forms the document's justification.)
If the only thing we take away from this weekend of barbeques, picnics and fireworks is that one thought then we will have paid a reasonable homage to those great men and women that founded this country.  If we indeed believe, as they did, that being on the right side, the God side, of a cause was worth all of suffering and inconvenience that came with overturning the status quo then we will have given them all a nod of appreciation for what they sacrificed so long ago by pursuing and then achieving what many thought was impossible.
Two thousand years ago Christ proposed a similar impossibility when He said, "…it is easier for a camel to go through the eye of a needle than for someone who is rich to enter the kingdom of God."  (Matt 19:24) Left with that quandary we all doomed, as the apostles noted.  But then Jesus saves us with the critical follow up to this apparent condemnation, "With man this is impossible, but with God all things are possible." He didn't say some things, or a lot of things, or even most things.  He said ALL things are possible with God – a concept very familiar to our Bible reading American ancestors. So, although at times it may appear that the God side of the argument may be contrary to popular opinion, like building a wall or aborting a baby, making it seemingly impossible for us to do the right thing, we need to be steadfast in the belief that 'all things truly are possible with God' and make that our inspiration to always seek righteousness in the face of popularity.  If you in fact believe there is a God, there is no other way to proceed.  And, it is from that resolute conviction of being on the side of God that mankind's greatest achievements, like the Declaration of Independence, are born.
May God continue to bless our nation.