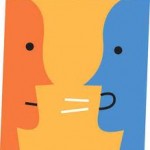 Society tells us that it's not polite to talk about God when you are with family and friends. Why is that? What could possibly be more interesting than how we will spend eternity? We spend more time talking about our next vacation, the kids' dental hygiene, or the crap on TV, by a very large margin. I can understand if you don't believe in God and don't want to dwell on your ultimate demise. But, as believers we should know with some level of certainty that eternal paradise – the home which we were created for – awaits for us once we leave this world. I mean, shouldn't we all be jacked up about that?
So what I figure is that there is some level of doubt we have that forbids us believers a truly, deep down in our heart certainty, like knowing that your feet will hit the floor when you get out of bed in the morning. If you definitely knew that salvation awaits you as a statement of fact, wouldn't that change the way you lived your life? You would at a minimum want to talk about it with someone – right?
Let me tell you, the more I study the more my own belief becomes a statement of fact to me, and I would like to talk about it. Even if it means just writing on this blog – whether you read it or not – whether you respond to it or not. It's just that important to me – certainly more important than anything else I might be doing when I do sit down to write. So regardless of what 'society' might think, let's talk about it like it is our destiny, like it's going to happen, like the trip to Disney, or the dentist appointment – because the more we do talk about it the less we will doubt it…What do you think?