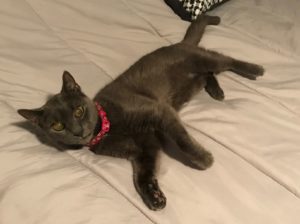 Have I mentioned that I am married to an angel?  This latest act of divine spousal intervention began back in January.   As some of you know, through a series of unfortunate events we found ourselves fostering a pair of older cats.  These seemingly inseparable cats were saved by Ellie as she and her sisters worked to settle the estate of an uncle back east.  With no one willing to take on the two older felines, there was no humane alternative but to bring them home.
As part of their new life in Arizona, my dear wife had the prophetic foresight to rename them, Joy and Hope.  Both needed lots of care and poor Joy, we came to find out, was quite ill, and after a short while we had to let her go to her well deserved rest.  Enter our 12-year-old resident cat, Buddie.  Those who know Buddie, know him as a friend to all, even the occasional transients that find their way to our doorstep.  So, I became quite disappointed to see that although Buddie was OK with Hope (and the special food we were feeding her) Hope was quite aggressive towards Buddie.  There were several serious altercations between the two, and Buddie, not one for confrontation, got the worst of it and slowly disengaged himself by spending more time outside or in the garage.   This led to herculean efforts by my wife to keep the peace and somehow make this work as she had done so many times in the past.  This in turn, caused me no small resentment towards what I began to see as this new little trouble maker.
Now at this point I must say that Hope is a sweet little cat that loves people and is always friendly and playful, a real peach.  But for a time there I could not see any of that, especially after one of those horrific cat fights.  At those times, I would not remember the horrible conditions from which she was saved, her trauma of relocating across country then losing her lifelong companion Joy, or her introduction into a totally alien environment complete with what we believe was the only other cat she had ever seen (besides Joy).  I was only interested in my peace, and my needs.  But the weeks turned to months and as I witnessed the patience, love and devotion my own earth angel modeled, something happened to me.  I began to see our little Hope as her true self, simply one of God's creatures in desperate need of our love.  I began to spend more time with her and we bonded.  The empathy and compassion that comes so naturally for some was finally beginning to take hold of my heart.
After close to six months, and although the aggression towards Buddie was still there, I began to understand that Hope was indeed a gift from God.  A gift that I may not have wanted, but certainly needed.  I've learned a little more about patience, a little more about compassion and acceptance and a lot more about trusting God to work all things out for the good.
Happy ending!  When it became clear that the cat-friction was continuing to have very negative effects on both Hope and Buddie, our cat therapist (yes, that's what I said) recommended that we try again to re-home Hope.  Reluctantly, we began to make inquiries and within two hours of posting a notice at a local senior living community, we got a call from a lovely woman interested in meeting Hope!  The next day we dropped Hope off at her new home, one for which she traveled thousands of miles and suffered through several traumas.  She now lives peacefully, not at all aware of the role she has played in helping me become a little less hopeless.
"Therefore, my dear friends,…continue to work out your salvation with fear and trembling (awe), for it is God who works in you to will and to act in order to fulfill his good purpose."  Phil. 2:12-13
"I will give you a new heart and put a new spirit in you; I will remove from you your heart of stone and give you a heart of flesh."    Ezekiel 36:26
Praise God!